When it comes to the two things I love in life - Overlanding and running a startup - one thing is certain: Sh🙌t happens!
Let's start with Overlanding. (If you missed Part I of this series, check it out here). On each Overlanding trip, something will go wrong at some point. You have to expect it. In fact, it's kinda the name of the game when you're off-roading in the backcountry. 🚙🚙🚙
The trouble is, when you're Overlanding, there's no phoning a friend. There's no escape chute. Instead, you need to be prepared for every scenario and you need to think on your feet in order to respond to the situation. You also need the right recovery gear to get you out of hot water (including a winch, straps, axe, shovel, chainsaw, spare parts and even a satellite device).
Cell coverage while Overlanding can be next to impossible and I bring along 2 satellite devices and 2 radios. You also need survival gear (e.g. a 72-hour pack) just in case; along with training and experience. As with running a company, you do need to rely on good people that you trust to help out. You have to be prepared for whatever you encounter.🐻
I'm sure you can see the parallels here ⬆️ with running a startup.
Running a business is hard work and requires burly problem-solving skills. But, it's also full of fun and reward. What I've learned, is the key to long-term survival is to be prepared for a bumpy ride and have contingency plans for when things don't go your way. Startups are extremely rough terrain—double black diamond. ⛰️
In a startup, you have to diligently watch what is working with your product development AND your go-to-market plans. What you thought might work likely isn't working. In cases like this you'll need to re-assess and make changes. And sometimes those changes are a quick strategic pivot.
Managing change or even a pivot is hard. You must have good communication skills to talk with shareholders, stakeholders and most importantly your team. You also need to have clear and immediate visibility into your budget and cash flow—changes and pivots will cost money. In this case, your recovery kit will consist of communication tools, financial tools, marketing tools and product development tools.
As recent as two days ago, I just had a conversation with the team about ensuring that our software design and architecture does not paint us into a corner. In this case, the right product development approach has allowed us to change and pivot easily.
It's also important to not let ego get in the way; just like it can't get in the way while recovering on a trail. You need to step back and think clearly about the options. Like any recovery situation, there usually isn't a silver bullet, and you'll need to hunker down and apply several approaches to get back on track.
As a leader, the responsibility falls to you to take charge and coordinate., That includes relying on the skills of your team and listening to their feedback; but ensuring that there is a line of communication and good coordination. At the right point … make a decision! Decision making is a key tool and you have to be decisive.
A Funny Coincidence
This week everyone has been asking how my long weekend was. Well the following picture says a thousands words … and it nicely tied into Overlanding and recovery. 🤣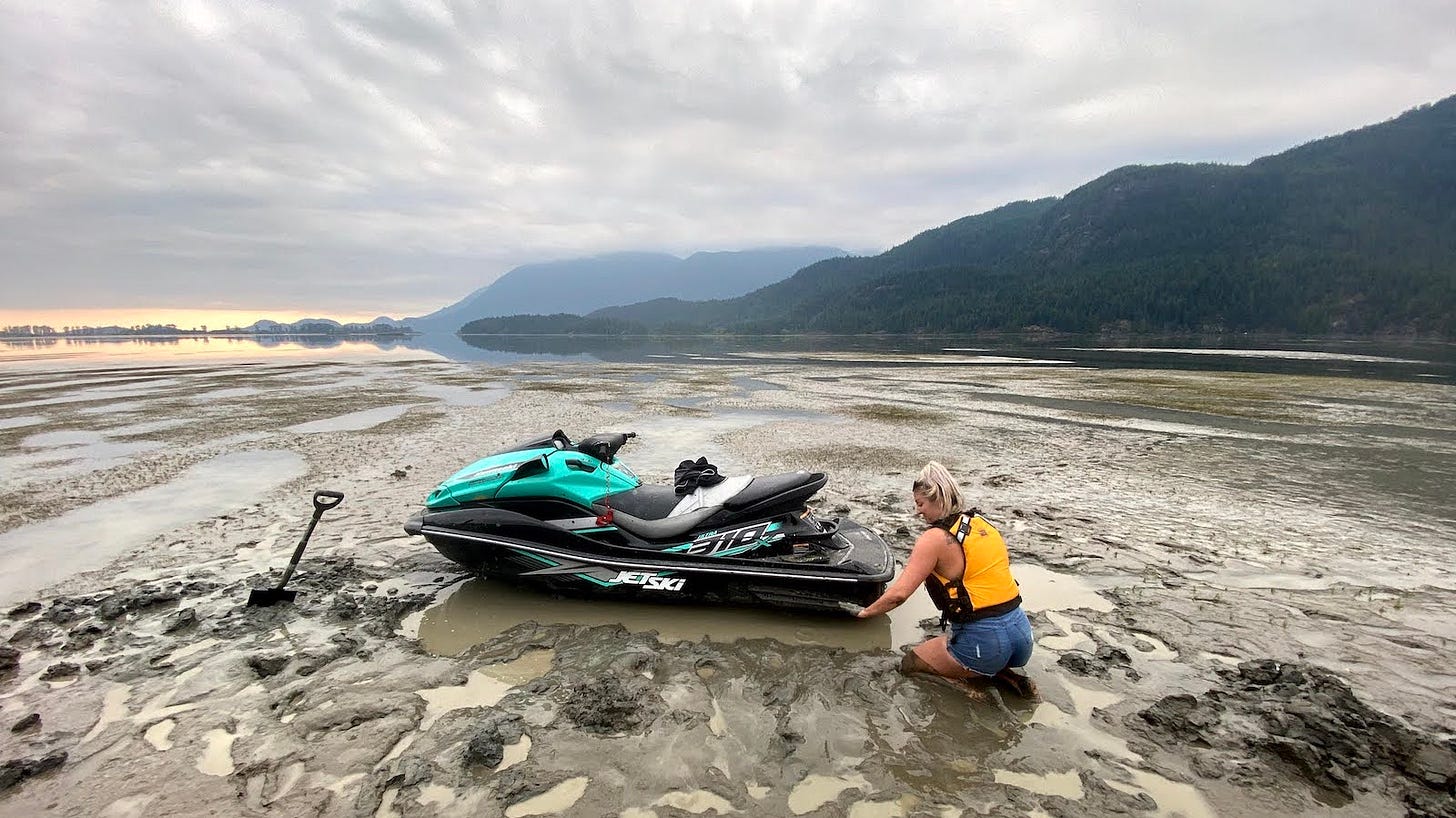 Little did I know that my Overlanding recovery skills would come in handy for a jet ski. Nor did I ever expect to use my shovel for digging a jet ski out.
It was a hilarious situation that I'll not let my family [names withheld to protect the innocent] forget anytime soon.😇🤣
My daughter [oops … family 🤫] called me late in the day after they had tried desperately to get unstuck. I ended up heading to their location with my Jeep and recovery gear. Knowing a little about the situation, I did manage to grab a shovel and Snatch Strap to help pull them out.
Another jet ski took me to the spot and we had to quickly analyze the situation. It was low tide, getting dark and they were stuck hard on a sand bar. Everyone needed to be coordinated including communicating with the marina, notifying authorities, preparing for a long wait until high-tide, as well as attempting recovery.
In the end, the Snatch Strap worked like a charm and yanked the jet ski free. The interesting part is that I knew about the Snatch Strap from Overlanding and watching recovery videos on YouTube. In fact, Matt's Off Road Recovery is one of my favorite channels for watching and learning.
Recovery situations are an important part of success. Whether it is learning the importance of tides on tidal lake or navigating market corrections and pandemics in business. Recovery is also a blast and part of the reason I love the twists and turns that a startup takes.
At Charli, my approach is less about controlling all the outcomes and more about swiftly and effectively solving problems as they crop up.
_____
Got additional tips? Leave them in the comments.